Update 28/12/2148 : Cisco just released Packet Tracer 7.2.1 build 7.2.1.0218 which is a maintenance release of Packet Tracer 7.2 correcting various issues including the 'multiple netacad login' issue. Packet Tracer 7.2.1 can be freely downloaded from Netacad website.
Download Cisco Packet Tracer 7.2.1
Cisco Packet Tracer 7.2.1 release info
Cisco Packet Tracer 7.2.1 has been released at the end of december 2018 and is now available for download on Netacad website. Check Packet Tracer 7.2 new features as Packet Tracer 7.2.1 is a maintenance relese of Cisco Packet Tracer 7.2 . Packet tracer 7.2.1 replaces Packet Tracer 7.2 which is not available anymore for download.
Cisco Packet Tracer 7.2.1 is created by Cisco SystemsTM and is now provided for free to everyone. Self learners are now able to download Cisco Packet Tracer after registering on Cisco Netacad website. This is a major change in Cisco delivery policy for Packet Tracer as previous versions were only available for Netacad students and instructors.
A free Packet Tracer 101 (English), a 1-hour self-paced online course is also offered to every registered student to help them get started with Packet Tracer 7.2.1 . Packet Tracer 7.1.1 will continue to be available for download on the Netacad website, but older versions have been removed from the netacad website.
Cisco Packet Tracer 7.2.1 download data
Packet Tracer 7.2.1 can be downloaded for FREE from official Cisco Netacad website. Log in to Cisco Netacad.com learning website and select Resources > Packet Tracer in the menu to access the download page. The software is provided with several tutorial files allowing academy students to discover the software features.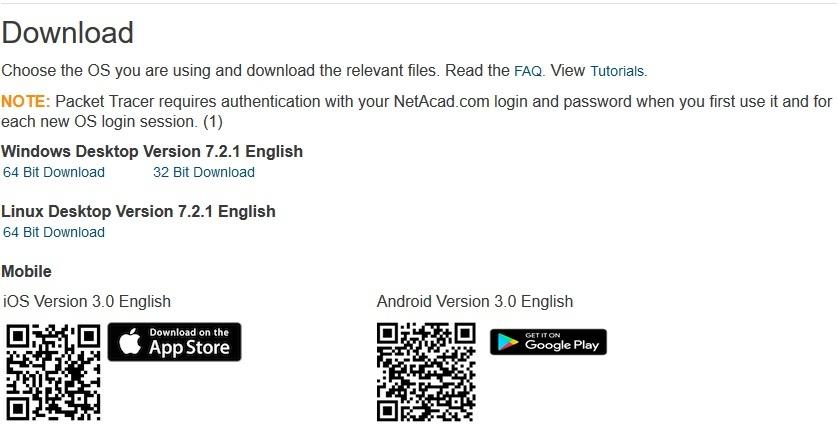 Packet Tracer 7.2.1.0218 files checksums
File : Packet Tracer 7.2.1 for Windows 32 bit.zip (Windows 7, 8.1, 10)
MD5 : 2B6D1D2116173ECA186008273B4E0B01
SHA-1 : F84E1A08B0B4F38AC977A11C7071E20C028B8D3E
File : Packet Tracer 7.2.1 for Windows 64 bit.zip (Windows 7, 8.1, 10)
MD5 : 7EB8935C9796F5EC6106BFE638A71D5E
SHA-1 : 3BD94E508F8E34AAE729B5B0D8AD4E3CFAFC9B6A
File : Packet Tracer 7.2.1 for Linux 64 bit.tar.gz (Ubuntu 14.04)
MD5 : 7F7CCEDA81E0ACAB91881BCF37984D83
SHA-1 : B95E0A58E9A65C623B6534BD42855117E25C50D3
Packet Tracer 7.2.1 can be installed on Microsoft Windows 7, Microsoft Windows 8.1, Microsoft Windows 10 or Ubuntu 16.04 LTS.
Warning : We strongly advise you to not download Packet Tracer from any other websites or torrent source as the software can be infected with viruses or malware. This website provides SHA and MD5 checksums of official Packet Tracer version to help you to check if the software you downloaded is valid.
Keep your Packet Tracer updated !
Cisco development team periodically publish Packet Tracer updated builds on Netacad.
The current Packet Tracer 7.2.1 build is build 7.2.1.0218.
An update info box would be nice to inform users of the availabilty of new versions.
Download Cisco Packet Tracer 7.1.1
Packet Tracer 7.1.1.0138 was released by Cisco on netacad.com at the begining of January 2018. This was a maintenance release correcting various bugs of Packet Tracer 7.1 & 7.0, which introduced IOS 15.5(3), Cisco wireless emulation capabilities (WLA, CAPWAP, LWAP, as well as IoT support.
Packet Tracer 7.1.1 can be downloaded for FREE from official Cisco Netacad website. 
Packet Tracer 7.1.1.0138 files checksums
File : Packet Tracer 7.1.1 for Windows 32 bit.exe (Windows 7, 8.1, 10)
File size : 124.2MB
MD5 : 68715988630B97DC4F05A9F744088F39
SHA-1 : 68F3E227AC147CE3295A71E0F44C6B4D16006A5E
File : Packet Tracer 7.1.1 for Windows 64 bit.exe (Windows 7, 8.1, 10)
File size : 131.9MB
MD5 : F6E60048FD7B8539ECEFB2FE6CFD5769
SHA-1 : 77B5D0EBB2E6E8C33974CB96C53102BD9D6AC3F5
File : Packet Tracer 7.1.1 for Linux 64 bit.tar.gz (Ubuntu 14.04)
File size : 155.3MB
MD5 : AB2A757245298F8B730D2D2BA87850B9
SHA-1 : A84C094CE0233C7750486C09EC562F80C70DE2A5
Packet Tracer 7.1.1 for Linux can be installed on Debian 9, Ubuntu 17.04, Mint 18.3 Sylvia.
Packet Tracer Mobile 3.0
Packet Tracer Mobile 3.0, based on Packet Tracer 7.0 engine, is now freely available for Android and Apple mobile devices. Check the new features here
Cisco Packet Tracer Mobile can be freely downloaded on Google Play Store or Apple Store. Register on Cisco Netacad (now free registration open !) before using the software and use your credentials to unlock the software.
Packet Tracer add-ons
PT Anywhere
PT Anywhere is a web application designed to offer a network simulation environment based on Cisco Packet Tracer engine throug a web interface which can be accessed from a web browser. PT Anywhere can as such be integrated inside a website, an online course, a learning systm like moodle... It has been developed by the Open University and Cisco and has been funded by the FORGE project.
PT anywhere can be downloaded from https://github.com/PTAnywhere
Documentation to install and integrate PT Anywhere with Cisco Packet Tracer is available from http://ptanywhere.github.io/
PTBridge - Connect Packet Tracer 7.0 to a real network
The PTBridge java utilitary has been validated working with Cisco Packet Tracer 7.0 . This tool provides real network connectivity to Packet Tracer, and thus the ability to connect to other lab environments. Download it from Github and connect your Packet Tracer labs to your real Cisco devices !.
Download PacketSocket library from GitHUB
Other network emulators downloads
Download GNS3
GNS3 v2.1.11 has been released for download on September 28, 2018 ! This maintenance version corrects various bugs in GNS3 v2.1.0 which intoduced new features such as packet filters (packet loss, latency, jitter etc.) for links, node duplication and appliance templates which can be installed from within the application. Be careful that project files opened in GNS3 v2.1.x cannot be open in GNS3 v2.0 anymore.
GNS3 virtual machine update from 2.1.3 to 2.1.4 might fail with a permission denied error. The following command solves the issue :
sudo chown -R gns3:gns3 /home/gns3/gns3-server 
Changes in GNS3 v2.1.11 :
Handle deleted SIP objects.
Update paths for UltraVNC and VirtViewer.
Indicate if Solar-PuTTY is included or not. Fixes #2595
Fix bad link to installation instructions in README.rst. Fixes #2590
Downgrade to Qt 5.9. Fixes #2592.
Changes in GNS3 v2.1.10  :
Fix small errors like unhandled exceptions etc.
Fix when appliance version is not available for Dynamips/IOU/Qemu. Fixes #2585.
Fix issue when installing appliance with no version selected. Fixes #2585.
Check for existing appliance name across all emulator types. Fixes #2584.
Improve the invalid port format detection. Fixes #2580
Catch OSError/PermissionError when checking md5 on remote image. Fixes #2582.
Fix UnicodeDecodeError in file editor. Fixes #2581.
Catch import error for win32serviceutil. Fixes #2583.
Fix bug with empty project ID when creating a new node. Fixes #2366
Fix various small errors, mostly about non-existing C/C++ objects.
Send extra controller and compute information in crash reports.
Update setup.py and fix minor issues.
Set the default delay console all value to 1500ms if using Solar-PuTTY.
Make Solar-Putty the default if installed. Ref #2519.
Fix issue with custom appliance. Fixes GNS3/gns3-registry#361
Forbid controller and compute servers to be different versions. Report last compute server error to clients and display in the server summary.
Fix issue with appliance categories. Fixes GNS3/gns3-registry#361
Add compute information to crash reports.
Add controller version in Sentry bug reports.
Backport: Fix "Network session error" issues. Fixes #2560.
Add SolarPutty command line. Fixes #2519.
Add missing Qemu boot priority values. Fixes GNS3/gns3-server#1385
Update PyQt5 from version 5.8 to version 5.10. Fixes #2564.
Include locale information and GNS3 VM version in crash reports.
Import encodings.idna to avoid LookupError when standard library is in a zip file.
Catch exceptions in various locations to fix small issues reported by Sentry.
Check if serial pipe can be opened for VMware and VirtualBox VMs.
Update aiohttp verion requirement in order to support Python 3.7. Fixes #2566
Catch asyncio.CancelledError when shutting down the server.
Report GNS3 VM errors to the GUI server summary. Ref #1359.
Replace vboxnet0 (if it does not exist) by the first available vboxnet interface on Windows. Fixes GNS3/gns3-vm#102
Check if the VirtualBox host-only network exists when starting a GNS3 VM running on VirtualBox. Ref GNS3/gns3-vm#102
Change file timestamps if necessary because ZIP does not support timestamps before 1980. Fixes #1360.
Add missing coroutine decorator Ref #2566
Refactor asyncio locking system for Python 3.7 support. Ref #2566 Ref #2568
Use asyncio.ensure_future() instead of asyncio.async() with conservative approach to support Python < 3.4.4. Fixes #2566
Fix exception with short names for Dynamips interfaces. Fixes #1386.
GNS3 v2.1.11 checksums (September 28, 2018) :
== GNS3-2.1.7-all-in-one.exe ==

sha256 : 81FBD75C20D572E77BE2FB948B5799AEBD6AAAAEA8C659CD97D407202843D223
sha1 : 051D08E4B59459435434786FC71D9BC7F81EBB2E
md5 : F41375E613E2D7303B707AA31F6113D2

Download GNS3 v2.1.11 for Windows
Download Cisco NX-OSv 9000 appliance
The NX-OSv 9000 is a virtual appliance designed to simulate the control plane of a Cisco Nexus 9000 switch. The NX-OSv 9000 shares the same software image running on Cisco Nexus 9000 hardware platform. Line card (LC) ASIC provisioning or any interaction from the control plane to rela switch ASICs are emulated by the NX-OSv 9000 software data plane.
Following the the Nexus 7000 Titanium emulator, the NX-OSv 9000 is a moder emulator for datacenter certifications training. It's also great plaform to test network automation prior to production deployment.
NX-OSV 9000 runs on GNS3, KVM, or VMware NSX.
Download NX-OSv 9000 from Cisco website
Download Cisco UCS Platform Emulator
UCS PE (Platform Emulator) is a powerful Cisco UCS Manager emulator allowing CCNP datacenter students to learn how to configure the UCS environment. The current version emulates the UCS manager 3.2(3e), which includes new hardware configurations with M5 ans HX servers. The S3260 storage server is also emulated in UCS PE. These release can't be connected to GNS