Download Cisco Packet Tracer 7.2
Cisco Packet Tracer 7.2 is under active development and could be released in the next few weeks. Current development build is Packet Tracer 7.2.0.0116 as of 30/05/2018. Keep an eye on Packet Tracer 7.2 expected new features !
Download Cisco Packet Tracer 7.1.1
Cisco Packet Tracer 7.1.1 release info
Packet Tracer 7.1.1.0138 has been released by Cisco on netacad.com at the begining of January 2018. This is a maintenance release correcting various bugs of Packet Tracer 7.1 & 7.0, which introduced IOS 15.5(3), Cisco wireless emulation capabilities (WLA, CAPWAP, LWAP, as well as IoT support.
Cisco Packet Tracer 7.1.1 is created by Cisco SystemsTM and is now provided for free to everyone. Self learners are now able to download Cisco Packet Tracer after registering on Cisco Netacad website. This is a major change in Cisco delivery policy for Packet Tracer as previous versions were only available for Netacad students and instructors.
A free Packet Tracer 101 (English), a 1-hour self-paced online course is also offered to every registered student to help them get started with Pracer 7.1.1 . Packet Tracer 7.0 & 7.1 will continue to be available for download on the Netacad website, but Packet Tracer 6.3 has been removed from the netacad website.
Cisco Packet Tracer 7.1.1 download data
Packet Tracer 7.1.1 can be downloaded for FREE from official Cisco Netacad website. 

Packet Tracer 7.1.1.0138 files checksums
File : Packet Tracer 7.1.1 for Windows 32 bit.exe (Windows 7, 8.1, 10)
File size : 124.2MB
MD5 : 68715988630B97DC4F05A9F744088F39
SHA-1 : 68F3E227AC147CE3295A71E0F44C6B4D16006A5E
File : Packet Tracer 7.1.1 for Windows 64 bit.exe (Windows 7, 8.1, 10)
File size : 131.9MB
MD5 : F6E60048FD7B8539ECEFB2FE6CFD5769
SHA-1 : 77B5D0EBB2E6E8C33974CB96C53102BD9D6AC3F5
File : Packet Tracer 7.1.1 for Linux 64 bit.tar.gz (Ubuntu 14.04)
File size : 155.3MB
MD5 : AB2A757245298F8B730D2D2BA87850B9
SHA-1 : A84C094CE0233C7750486C09EC562F80C70DE2A5
Packet Tracer 7.1.1 for Linux can be installed on Debian 9, Ubuntu 17.04, Mint 18.3 Sylvia.
Warning : We strongly advise you to not download Packet Tracer from any other websites or torrent source as the software can be infected with viruses or malware. This website provides SHA and MD5 checksums of official Packet Tracer version to help you to check if the software you downloaded is valid.
Packet Tracer Mobile 3.0
Packet Tracer Mobile 3.0, based on Packet Tracer 7.0 engine, is now freely available for Android and Apple mobile devices. Check the new features here
Cisco Packet Tracer Mobile can be freely downloaded on Google Play Store or Apple Store. Register on Cisco Netacad (now free registration open !) before using the software and use your credentials to unlock the software.
Keep your Packet Tracer 7.1 updated !
Cisco development team periodically publish Packet Tracer updated builds on Netacad. The current Packet Tracer 7.1 build is build 7.1.0.0222.A new development run is in progress and increased testing activity has been observed since mid-october.
The build number was 202 when Packet Tracer 7.0 was released in June 2016, and Cisco periodically updated the software up to build 306, mainly for bug fix.  An update info box would be nice to inform users of the availabilty of new versions.
Old versions
Packet Tracer 7.1 build 7.1.0.0222
Packet Tracer 7.1 can be downloaded from the Packet Tracer resource page on Cisco Networking AcademyTM website. Log in to Cisco Netacad.com learning website and select Resources > Packet Tracer in the menu to access the download page. The software is provided with several tutorial files allowing academy students to discover the software features.
This is a major version including updated IOS 15.5(3) version for 1900 and 2900 ISR routers, advanced wireless simulation capabilities with WLC and lightweight Access Point new devices. Description of all the new features on this page. Support for Ubuntu 12.04 has ended. Packet Tracer 7.1 is only available for Ubuntu 14.04 LTS 64 bit .
File : PacketTracer71_32bit_setup_signed.exe (Windows 7, 8.1, 10)
File size : 123.8MB
MD5 : 4F694BC441C8ACD462B16AA111A10550
SHA-1 : 2C700E34B5F710CFFCB78F7391810BBAE0CF98DF
File : PacketTracer71_64bit_setup_signed.exe (Windows 7, 8.1, 10)
File size : 131.7MB
MD5 : 0A32BA9A290C6C151DEA1FAF2839F33D
SHA-1 : AD6D792BB772A4C01C93AA035023946E1F0C41B7
File : PacketTracer71_64bit_linux.tar.gz (Ubuntu 14.04)
File size : 155.0MB
MD5 : 11863BAFC8675EEB3B3BB685956F4395
SHA-1 : BBC776E62725AC714C228E87E239DDA4DFD9449C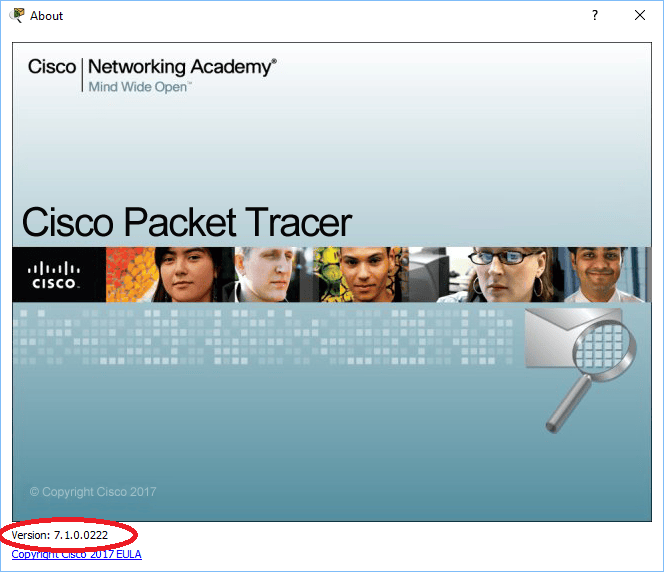 Cisco Packet Tracer 7.0 build 306 download data
File : Cisco Packet Tracer 7.0 build 306 32 bit (Windows 7, 8.1, 10)
File size : 72,7MB
MD5 : 5e4ca2b85480cabb87588444a8f2d4b1
SHA-1 : 282bef6ba7e81d3cc22d70e3528c861796e2909e
File : Cisco Packet Tracer 7.0 build 306 64 bit (Windows 7, 8.1, 10)
File size : 78.4MB
MD5 : 9cdb2ccb5b45dace2b39f68eb817f669
SHA-1 : 130bbd29f211f1f4d20da962535fe59f82a27122
File : Cisco Packet Tracer 7.0 build 306 32 bit (warning : Ubuntu 12.04 only !)
File size : 106MB
MD5 : b058a3d88a26d48b6c1cce836dcb3bf0
SHA-1 : 76ffc59d88993ddec1d1eeb1e80c7327a6f358aa
File : Cisco Packet Tracer 7.0 build 306 64 bit (Ubuntu 14.04)
File size : 106MB
MD5 : 5da3e802a593c949d20bccd6ee12915e
SHA-1 : 30a24a6330553819005e80b6c60fb1b9e2d7b011
Cisco Packet Tracer 6.2 student version
File : Cisco Packet Tracer 6.2 for Windows Student Version
File size : 147 MB
MD5 : 99f7e5e6af486e79b0564b44720a6692
Cisco Packet Tracer 6.2 instructor version
File name : cisco packet tracer 6.2 for windows instructor version.exe
Publisher: Cisco Systems, Inc. (file signed by Cisco Systems, Inc. CN="Cisco Systems, Inc.", OU=Digital ID Class 3 - Microsoft Software Validation v2, O="Cisco Systems, Inc.", L=San Jose, S=California, C=US , serial number : 37531C4EB56A967FE17E390590A07763)
Product: Cisco Packet Tracer 6.2 Instructor
MD5: 728bde5986ae67b3bba14b8ad7da099a
SHA-1: 4e4a601d846b7725ff5eb1704bb43571b0b78f17
SHA-256: b2674379f3c1c8b9fdd6bfa956104e1d05ce2fb8d9d7279cd623453ada1ec559
Packet Tracer add-ons
PT Anywhere
PT Anywhere is a web application designed to offer a network simulation environment based on Cisco Packet Tracer engine throug a web interface which can be accessed from a web browser. PT Anywhere can as such be integrated inside a website, an online course, a learning systm like moodle... It has been developed by the Open University and Cisco and has been funded by the FORGE project.
PT anywhere can be downloaded from https://github.com/PTAnywhere
Documentation to install and integrate PT Anywhere with Cisco Packet Tracer is available from http://ptanywhere.github.io/
PTBridge - Connect Packet Tracer 7.0 to a real network
The PTBridge java utilitary has been validated working with Cisco Packet Tracer 7.0 . This tool provides real network connectivity to Packet Tracer, and thus the ability to connect to other lab environments. Download it from Github and connect your Packet Tracer labs to your real Cisco devices !.
Download PacketSocket library from GitHUB
Download GNS3
GNS3 v2.1.7 has been released for download on June 12, 2018 ! This maintenance version corrects various bugs in GNS3 v2.1.0 which intoduced new features such as packet filters (packet loss, latency, jitter etc.) for links, node duplication and appliance templates which can be installed from within the application. Be careful that project files opened in GNS3 v2.1.x cannot be open in GNS3 v2.0 anymore.
GNS3 virtual machine update from 2.1.3 to 2.1.4 might fail with a permission denied error. The following command solves the issue :
sudo chown -R gns3:gns3 /home/gns3/gns3-server 
Changes in GNS3 v2.1.7 :
Do not try to update link if it is being deleted. Fixes #2483.

Fix can't add SVG image to project. Fixes #2502

Remove unwanted trailing characters and other white spaces when reading .md5sum files. Fixes #2498.

Update interface sequence number check. Fixes #2491.

Logo should not have context menu, Fixes: #2507

Update logo position only when changes, Fixes: #2506
GNS3 2.0 was a major release of GNS3 which bringed major architectural changes, as all the "application intelligence" has been moved from the client to the GNS3 server. GNS3 was only a desktop application from the first version up to version 0.8.3. With the more recent 1.x versions, GNS3 had the possibility to use remote servers.  In version 2.0, multiple clients could control a GNS3 server at the same time.
GNS3 v2.1.7 checksums (June 12, 2018) :
== GNS3-2.1.7-all-in-one.exe ==

sha256 : 2AF844BBE4F472ECAA0ABF842C3FBC62C88A9EAAEC3A37BE5153C4F3EF546390
sha1 : F49E3C1A30A42CCDFB624825630EB95B237D2B11
md5 : 3A8581EF05D684227F663BBDFDE347E8


GNS3 v2.0 checksums :
== GNS3-2.0.3-all-in-one.exe ==

sha256 : 0FEAAE6C05A30CA1169FB1C0611385FA7B0E90A63E64E15765BD46008176EDA9
sha1 : F4511A8DF3A90EFB018A216FADE1B08969563F3B
md5 : E06151CADEF510197F30FC5A39E2FEAA


Download GNS3 from official website
Download Cisco NX-OSv 9000 appliance
The NX-OSv 9000 is a virtual appliance designed to simulate the control plane of a Cisco Nexus 9000 switch. The NX-OSv 9000 shares the same software image running on Cisco Nexus 9000 hardware platform. Line card (LC) ASIC provisioning or any interaction from the control plane to rela switch ASICs are emulated by the NX-OSv 9000 software data plane.
Following the the Nexus 7000 Titanium emulator, the NX-OSv 9000 is a moder emulator for datacenter certifications training. It's also great plaform to test network automation prior to production deployment.
NX-OSV 9000 runs on GNS3, KVM, or VMware NSX.
Download NX-OSv 9000 from Cisco website
Download Cisco UCS Platform Emulator
UCS PE (Platform Emulator) is a powerful Cisco UCS Manager emulator allowing CCNP datacenter students to learn how to configure the UCS environment. The current version emulates the UCS manager 3.1(2e), which includes the new S3260 storage server. These release can't be connected to GNS