With the introduction of Cisco Packet Tracer 5.3 and 6.0, several new features were added, including BGP, HSRP, which are part of the CCNP TM curriculum. Despite some feature limitations, students preparing CCNP Route and CCNP Switch exams are able to simulate basic IP telephony with Cisco Call Manager Express and IPSEC VPN using Cisco 2811 routers. However, while Cisco Packet Tracer aims to provide a realistic simulation of functional networks, the application itself utilizes only a small number of features found within the actual hardware running a current Cisco IOS TM and focuses on CCENT / CCNA preparation.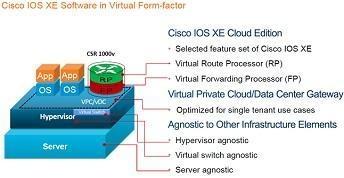 In april 2013, Cisco released a virtual router named CSR1000v. This virtual router is provided for free on Cisco website as a Vmware virtual machine embeding IOS XE. CSR1000v runs on VMware ESXi and requires 4 virtual cpus & 4 GB ram per VM.
Multiple virtual routers can run on a single ESXi server to buid a CCNP or CCIE lab and learn MPLS, BGP, LISP, OTV, ... on real IOS-XE software.
CSR1000v supported features
List of supported features for CSR1000v:

802.1Q, 
AAA, 
ACL, 
BGP, 
DHCP, 
DNS, 
EEM, 
EIGRP, 
EoMPLS, 
Flex Netflow + TNF, 
GRE, 
ICMP, 
IGMP, 
IP SLA, 
IPSec, 
IPv6, 
ISIS, 
L2TPv3, 
MPLS, 
MPLS L2VPN, 
MPLS L3VPN, 
MPLS TE, 
Multicast, 
NAT, 
NTP, 
OSPF, 
PfR, 
PIM, 
PPPoE, 
RADIUS, 
RIP, 
SNMP, 
SSH, 
SYSLOG, 
TACACS, 
TFTP, 
VRF-LITE

Features likely to work for CSR1000v:

HSRP, 
VRRP, 
GLBP, 
EZVPN, 
QoS, 
LISP, 
ZBFW, 
Performance Monitor